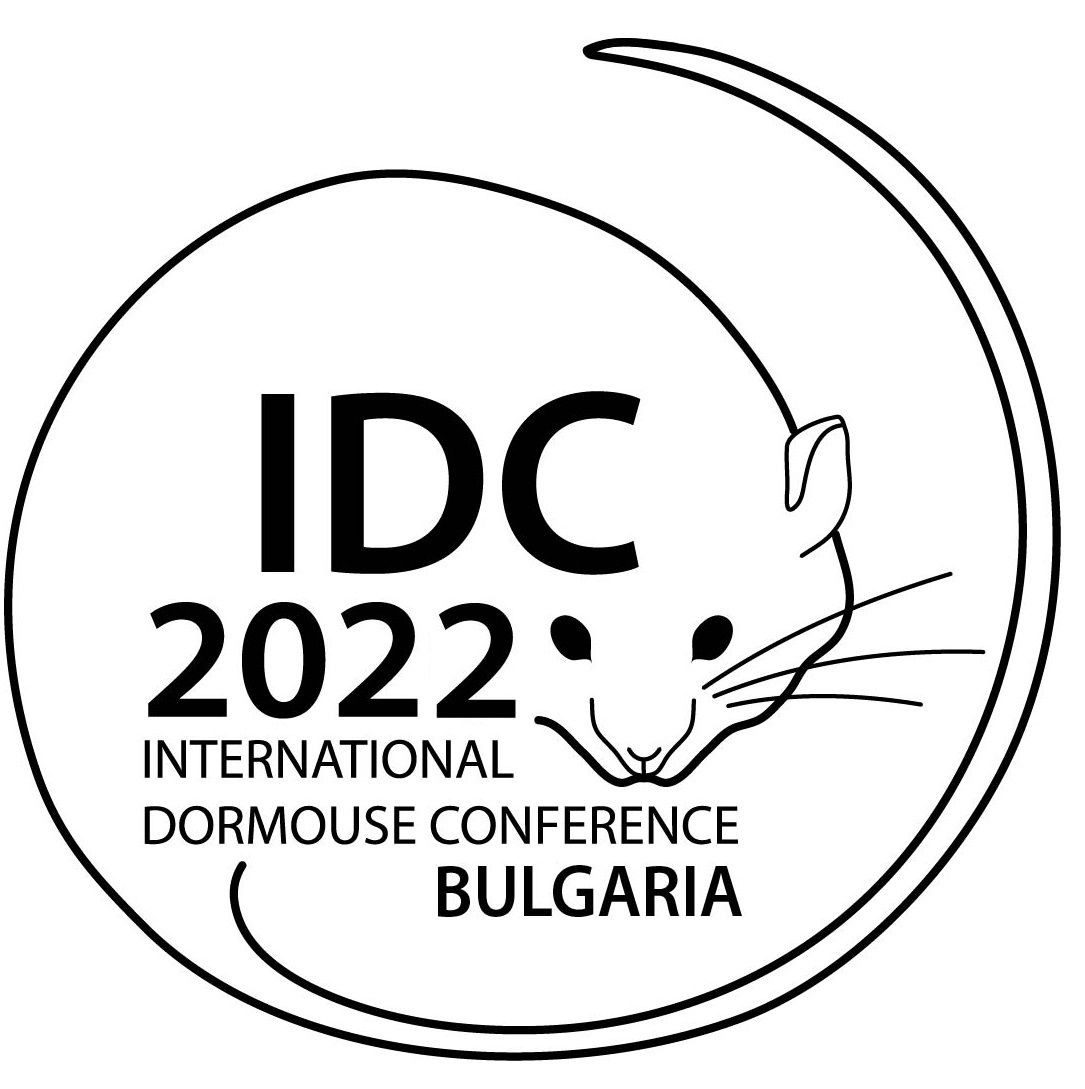 You are invited to take part in the XIth International Dormouse Conference 2022 in Svilengrad, Bulgaria. The conference will take place from May 9th till 13th, 2022. For more info see below or on the conference website.
The International Dormouse Conference (IDC) is being organised every three years to gather for four days scientists and conservationists to share findings and ideas on research and conservation of dormouse species. A mid-conference field trip, part of the conference programme, provides opportunities to get acquainted with the species ecology and habitats in different areas. Due to the Covid19 pandemic the conference is postponed from 2020 to 2022.
This time the conference will take place in the core of the distribution area of the Mouse-tailed dormouse (Myomimus roachi). Svilengrad is a small historical city along the river Maritsa at the crossroads of an important motorway linking Sofia (Bulgaria), Istanbul (Turkey) and Alexandroupolis (Greece). The conference will take place in the Cultural Center Prosveta – 1870 in the centre of the town.
Initial programme
| | |
| --- | --- |
| Monday, May 9: | Arrival. Registration. Accommodation. Welcome dinner |
| Tuesday, May 10: | Presentations |
| Wednesday, May 11: | Presentations |
| Thursday, May 12: | Field trip* in the areas of the Mouse-tailed Dormouse |
| Friday, May13: | Presentations. Closing. Farewell dinner |
| Saturday, May 14: | Post Conference field trip (optional)** |
* Thursday field trip will involve a walk of about 5 km in a hilly landscape and on walking paths that can be rough and muddy. If you have difficulties to do this, please indicate this in the registration form (under mid-conference excursion) so we can see if we can arrange transport.
** Optional Post Conference field trip will be discussed additionally provided there is enough interest for.
Registration is open!
Registration and conference fee
Early registration until December 20th, 2021: Students (PhD student, Master) € 150 Non-students € 250
Late registration until February 1st, 2022: Students (PhD student, Master) € 200 Non-students € 300
The conference fee includes:

| | |
| --- | --- |
| Monday, May 9: | Welcome dinner |
| Tuesday, May 10: | Coffee break + lunch |
| Wednesday, May 11: | Coffee break + lunch |
| Thursday, May 12: | Field trip + lunch during the field trip |
| Friday, May 13: | Coffee break + lunch + farewell dinner |
Conference fee payment
Registration fee should be paid via bank transfer to the bank account of The Habitat Foundation. Please, mention "IDC 2022" and your name. All bank charges are for the participant.
Bank account of The Habitat Foundation: IBAN: NL20 TRIO 0198 3429 50
Triodosbank, Zeist, Nederland
Bank address: PO Box 55, 3700 AB Zeist, The Netherlands
BIC / SWIFT: TRIONL2U
For specific question regarding the payment, please, contact
info@thehabitatfoundation.org
Abstract Submission
The deadline for abstract submission is February 20th, 2022. Abstract submission will be open at the end of 2021. Indicate on the registration form that you want to present an oral or poster presentation and we will send you the information for the abstract submission before the end of this year.
Abstracts on dormice species palaeontology, genetics, physiology, behaviour, morphology, ecology and conservation are welcome. The committee will take into consideration the aim of having a wide geographical representation of high-quality presentations.
The abstract should be up to a maximum of 250 words (without title and authors) + 5 keywords
Travel grant
The organising committee is happy to announce that Detlev Seibert and Ninette Zullei-Seibert provide a subsidy for the travel costs of young people that want to attend the conference. The money will go to young people taking their first steps to present their work on an international platform. If possible, not only scientific people but also non-scientists like volunteers and other interested people – with or without giving presentations at the conference. The travel grant request is included in the registration form the conference website.